Did you know that Brown-Phillips Insurance has a golf cart?
The #BPI57, as labeled on its license plate, is a golf cart turned retro and was custom made to appear like a 1957 Chevy. Owner and agent Brian Phillips bought the golf cart in July of 2014 and has absolutely fallen in love with it.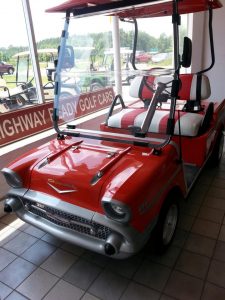 The golf cart is street legal because it has headlights, taillights, windshield wipers, a horn, and turn signals. It can only drive on roads that are marked with the speed limit of 35 mph but that has not stopped Brian. He has routed ways to get to North Hills and downtown Raleigh while staying in 35 mph zones. You can spot Brian all over north Raleigh driving to the grocery store and through different neighborhoods. Brian states that he's always stopped no matter where he is so that people can take photos of the golf cart due to its classic car exterior. Brian recounts one time having to pose for a picture at a stoplight so a girl could send a photo to her father, a previous owner of a '57 Chevy.
Brian's desire to get this golf cart began with his strong love for his old Trans Am that he had as a teenager. After selling the car and, years later, being unable to locate it, he mourned the loss of his beloved car. However. during a family trip to the beach, Brian spotted the golf cart and was in awe of its classic look. He showed interest in the golf cart but there were not any for sale and so he emailed the creator to inform him when any were available. Months later, Brian was contacted and informed that they had one golf cart that was currently on display that was for sale. The maker drove the golf cart to our office in Raleigh and dropped off the shiny new automobile right in our parking lot.
While it is a great ride, the fastest it has been found to go is 30 mph so we understand if you would like to pass us while driving along the road. It could be described as the perfect alternative for a classic car: The classic look but without all of the modifications and money put in to working on it constantly. It is a happy medium! (And, in case you were wondering, we do have golf care insurance. However, it is a separate policy from your automobile policy.)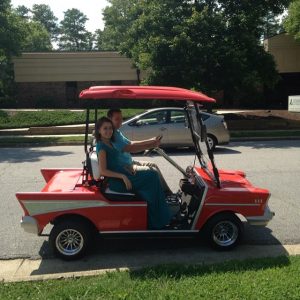 Two years later, it is still being driven around and used to the fullest. Here in this photo you will see Brian and agent Casey Daniel going for a mid-afternoon drive for a work break. Brian still yearns for his gold Trans Am but, in the mean time, this will do the trick.
So if you see someone driving around in this beautiful golf cart, snap a picture and post it on Twitter, Instagram, or Facebook and tag us (@brownphillips) and add the hashtag #BPI57!
Have a great day and a wonderful Wednesday!